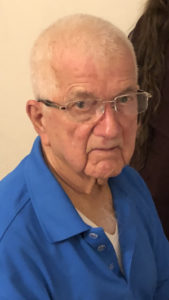 William Rodriguez Perez, 81 of Allentown died on December 8, 2019 in Cedarbrook Nursing Home in Allentown.  Husband of Gladys Santana Santos, they were married on October 9, 1955 and celebrated their 55th anniversary.
William was born on July 15, 1938 in Ponce, Puerto Rico, son of the late Andres Rodriguez, I and Candida Rosa Perez .
He worked at Polymer Dynamics in the janitorial department. Prior to that he was a Life Insurance Salesman, Uniform Salesman and owned a Grocery Store.
He was a member of Sacred Heart of Jesus Catholic Church in Allentown and active in La Providencia Committee, festival committee, Pueblo 3 rosaries, liaison of raising funds for the parish, parroquial council, RCIA, Eucharistic Minister, Encuentro Matrimonial, treasurer and vocal of Cursillo de Cristiandad, coordinator of God's Word.
Survivors:   His wife Gladys, daughters Frances I. Rodriguez, Janette Rodriguez, Gladys Rodriguez and Maillim Rodriguez; sisters Monserrate Rodriguez and Teresa Polanco; brothers Jose E. Rodriguez and Andres Rodriguez, II; ten grandchildren and five great-grandchildren.
Service:  Mass of Christian Burial on Wednesday December 11, 2019 at 2:30 PM with a viewing from 12:30PM to 2:30PM all at Scared Heart of Jesus Catholic Church 336 North 4th in Allentown.  There will be  an additional viewing to be announced in Puerto Rico.  Burial at Las Mercedes Memorial Park in Ponce, Puerto Rico.   Funeral arrangements by, the Sell-Herron Funeral Home, Allentown, www.Herronfuneralhomes.com.